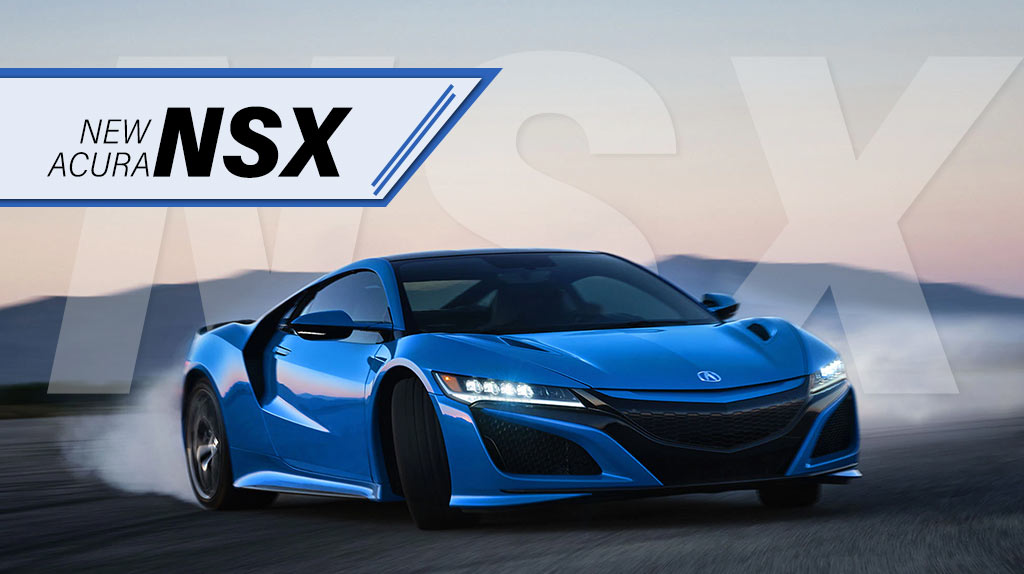 Whether you are here to buy or lease an Acura, we guarantee you've never seen a car as exciting as the new Acura NSX for sale. This luxury sports car has eye-catching style and incredible horsepower, which will make your daily drive in Pompano Beach, FL, a blast.
The new Acura NSX for sale is here to compete with top-of-the-line cars such as the Porsche 911, the McLaren 570S, the Mercedes AMG, and the Aston Martin Vantage. But, unlike other mid-engine sports cars, the Acura NSX was created to be approachable and have everyday usability. It's not complicated or uncomfortable to drive. It's got charm and class that's ready for even a short commute. Oh, and did we mention it's a hybrid? Yup. You can help keep the Florida air clean while driving in style. We invite you to browse our selection below, then scroll to the bottom of the page to learn more about the Acura NSX specs.
Not Just a Sports Car. A Supercar.
---
That's right. The new Acura NSX for sale isn't even considered a sports car - it's a supercar. What's the difference? Supercars are known for their exceptional top speeds, acceleration numbers, and power specs. This car is here to perform, and it's unlike anything else among our other Acura cars for sale.
The new Acura NSX for sale boasts outstanding handling, surprisingly spacious seats, and a heart-stoppingly quick powertrain. People on the roads near Fort Lauderdale, FL, won't know what hit them when you drive by. Crafted with forward-thinking in mind, the goal behind this vehicle was to make it a pinnacle supercar in the automotive world. You'll get sport hybrid super handling, a multi-material body construction, total airflow management with integrated cooling, and (according to Acura) the lowest center of gravity in its class.
This car was designed so intricately and thoughtfully to appeal to every driver that there is only one trim. And man, is it impressive. Each new Acura NSX for sale comes with standard luxury appointments like leather upholstery, a 7" infotainment screen, two USB ports, an ELS Studio premium audio system, navigation, heated seats, and dual-zone automatic climate control.
Let's Talk Power
---
A supercar without power is like Superman without the ability to fly. And trust us when we say this car is a superhero when it comes to its powertrain. This hybrid vehicle combines a twin-turbocharged 3.5L V6 engine with not one, not two, but three electric motors. They work together to produce a jaw-dropping 573 horsepower and 476 pound-feet of torque. Vroom vroom. The engine is strapped to a nine-speed automatic transmission.
You'll launch away from a red light with lightning-quick speed and pass by cars in the blink of an eye. The new Acura NSX for sale is known to be well balanced and have very high levels of grip thanks to the Super-Handling All-Wheel Drive.
The NSX has a top speed of 191 MPH, and it goes from zero to 60 MPH in as little as 2.9 seconds. Good luck finding a car, especially a hybrid vehicle, that can match those numbers. Want even more? The Acura NSX Type R is expected to launch in October of 2021. That even-more-powerful variation is supposed to get about 641 horsepower, according to reports from Acura.
A Supercar With Super Style
---
The styling alone on the Acura NSX interior and exterior are enough to make anyone fall in love with the vehicle. The Acura NSX seats two riders with an ample amount of head and legroom despite its low riding frame. You'll be surrounded by luxurious materials and intuitive technology. If you want to up the game, you can add the Carbon Fiber Interior Sport package, which adds steering wheel spokes, an upper steering wheel rim, and a carbon fiber gauge hood to your supercar.
The exterior is gorgeous, futuristic, and beautifully covered in sleek and sporty lines. Don't be surprised if people start staring at you when you're at a red light. It could be you, but it's most likely the beautiful vehicle surrounding you. Perhaps one of the most exciting selling points of the new Acura NSX for sale is the ten race-inspired colors you can choose from for your exterior. Prepare to stand out in Curva Red, Berlina Black, 130R White, Indy Yellow Pearl, Thermal Orange Pearl, Source Silver Metallic, Casino White Pearl, Valencia Red Pearl, Nouvelle Blue Pearl, or the all-new Long Beach Blue Pearl. Each one is striking and helps make your car more unique to you.
Start Your Engines at Phil Smith Acura.
---
This isn't your grandma's car or your teenager's car (but if you are looking for great Acura vehicles for them, we highly recommend one of our used cars for sale). This is a supercar. Are you ready to make your daily drive a super drive? Your everyday commute can feel like a lap around the Daytona International Speedway with the new Acura RSX for sale. Call or visit us today to learn more.
Discover Other New Acura Cars For Sale In Pompano Beach, FL: