2023 Acura MDX Release Date, New Interior, Colors & Dimensions

Settle into a spacious cabin and enjoy every trip in the sturdy and strong 2023 Acura MDX. We expect this popular model to be available in six trim levels and various eye-catching exterior colors. Our team is super excited about the features and driver aids you get up front. After a full redesign in 2022, the 2023 Acura MDX is another evolution in the world of luxury SUVs.
Our 2023 Acura MDX Release Date Preview
Get up-to-date official information on the 2023 Acura MDX as it comes out inside our showroom. We'll add you to our list of drivers that are eager for all the details that come with the 2023 Acura MDX release date. For now, take a look at the trim levels for the 2023 Acura MDX.
2023 Acura MDX Base
2023 Acura MDX Technology
2023 Acura MDX A-Spec
2023 Acura MDX Advance
2023 Acura MDX Type S
2023 Acura MDX Type S Advance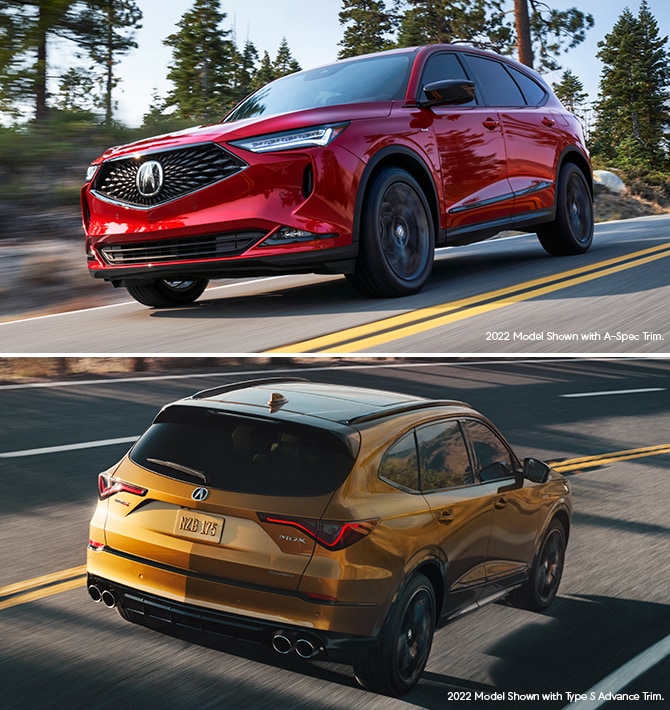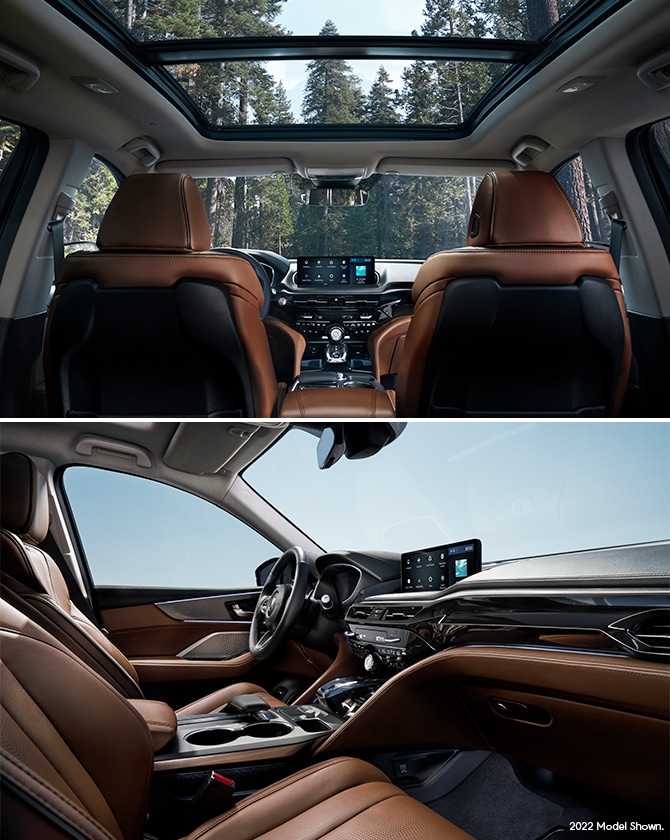 Enjoy Every Ride in the 2023 Acura MDX Interior
The 2023 Acura MDX interior will be packed with features that every SUV should have. Ergonomic seats will help passengers keep good posture, and several USB ports allow everyone to stay plugged in as the miles pile up. All three rows offer ample shoulder and headroom, and the durable seats are less bulky than other models. To easily access the third row, use the push-button seat release.
Another element we're huge fans of inside the 2023 Acura MDX is the infotainment system. You can easily cycle through entertainment options and crucial car information from behind the wheel. Play your favorite song and let the windows down in an effortlessly elegant Acura design.
Do you like driving a reliable car that showcases modern technology's influence throughout the frame? If you like wireless connectivity and easy-to-use integrated navigation functionality, ask our team to set you up with the Acura MDX Technology package. Test-drive the 2023 Acura MDX Technology and see for yourself all of the ways this car measures and adapts to the conditions around you.
View Our 2023 Acura MDX Colors
The 2023 Acura MDX colors instantly command your attention. Whether you pick a more bold option like Tiger Eye Pearl or the clean and calm tone of Platinum White Pearl, it's going to look good. Decide on a trim level with your preferred features, and our team will introduce you to the available exterior colors.
Tiger Eye Pearl
Apex Blue Pearl
Majestic Black Pearl
Liquid Carbon Metallic
Phantom Violet Pearl
Lunar Silver Metallic
Platinum White Pearl
Performance Red Pearl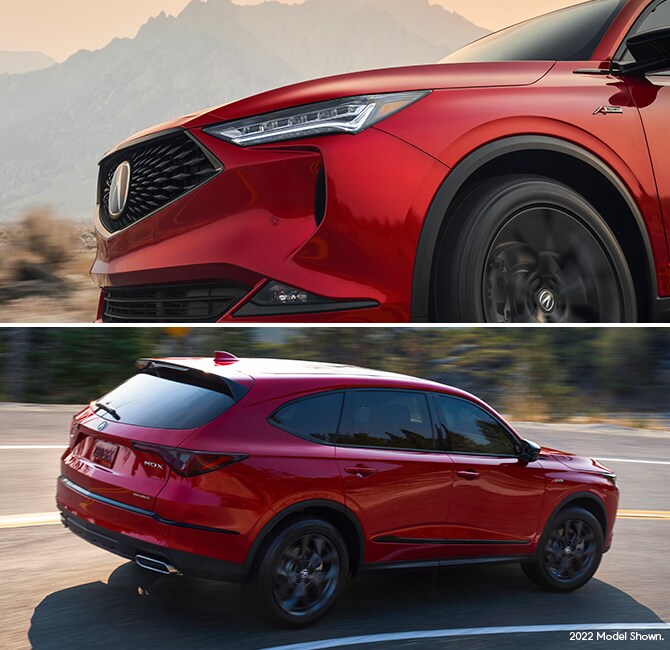 Estimated 2023 Acura MDX Dimensions
Are the 2023 Acura MDX dimensions big enough for you? See how these figures feel in person inside our showroom.
Maximum Cargo Volume Behind the First Row: 95 cubic feet
First Row Legroom: 38.5 inches
EPA Passenger Volume: 139.1 cubic feet
Length: 198.4 inches
Width: 78.4 inches
Height: 67.1 inches
To get official figures on the Acura MDX towing capacity and fuel efficiency as soon as it's available, sign up for updates inside our showroom. We'll make sure you're the first to know when we're set to receive the 2023 Acura MDX at Phil Smith Acura.
---
---
Frequently Asked Questions
If you're excited about all of the capabilities within the 2023 Acura MDX, you'll be happy to know it should debut soon. Here are some questions our showroom staff often answers about this upcoming SUV.
When will the 2023 Acura MDX be released?
The 2023 Acura MDX is on its way to a dealership near you. Stay tuned to your local Acura location for updates on this model's arrival. Provide us with your preferred contact information, and we'll reach out as soon as we receive word that the 2023 Acura MDX release date is around the corner.
What are the 2023 Acura MDX main changes?
The Acura MDX received a massive overhaul in 2022. This year's model is the second model of the new generation of Acura MDX. There are reportedly new available perks for Acura MDX drivers in 2023. Learn more about a complimentary AcuraLink subscription and free car maintenance today from one of our team members. The differences between the 2022 and 2023 models are much more subtle than what stands out between the 2021 and 2022 Acura MDX.
Will there be a 2023 Acura MDX hybrid?
We do not expect a hybrid model to be a part of the lineup in 2023. Stay tuned for updates as we get closer to the 2023 Acura MDX release date. If you are interested in an Acura hybrid model, ask our team to show you the Acura RLX Sport Hybrid and the Acura NSX. There are also Acura MDX hybrid models of previous model years available.
What are the 2023 Acura MDX colors?
Choose from up to nine beautiful color options, depending on your trim package. Colors available across all packages include:
Majestic Black Pearl
Liquid Carbon Metallic
Performance Red Pearl
Lunar Silver Metallic
Platinum White Pearl
Enjoy sleek colors like Phantom Violet Pearl, Fathom Blue Pearl, and Apex Blue Pearl on certain trim levels. Tiger Eye Pearl is only available on Type S and Type Advance trims.
What are the 2023 Acura MDX trim levels?
There are six trim levels in the 2023 Acura MDX lineup:
MDX
Technology
A-Spec
Advance
Type S
Type S Advance
Each trim level offers something unique. Jump inside the Type S or Type S Advance trims for the most power and performance, including 355 horsepower and 354 pound-feet of torque. Get an in-person look at the 2023 Acura MDX at Phil Smith Acura today.
How big is the 2023 Acura MDX?
The 2023 Acura MDX is a premium SUV with an impressive size that'll keep all your passengers comfortable. Enjoy 198.4 inches of length and 78.4 inches of width – two values that combine to craft an agile vehicle that can tackle tight city streets and rural, open roads alike. With 67.1 inches of height, this vehicle will elevate passengers for a better outside view.
Continue Your Acura Research:
---
Want More Information About The 2023 Acura MDX? Contact Us!
Make an Inquiry
* Indicates a required field