2022 Acura MDX Redesign, Interior, Dimensions, Engine & MPG

The brand new, three-row flagship SUV has arrived, and its name is the 2022 Acura MDX. Now in its fourth generation, the new Acura MDX is completely skipping the 2021 model year and calling itself the 2022 MDX. With modern styling, highly-futuristic technology, and an upgraded powertrain, the Acura MDX redesign sets the tone for the automaker moving forward. The 2022 Acura MDX is sporty, stylish, and has purposeful lines that disguise its family-hauling, minivan-like capability with a head-turning SUV design. The vehicle is longer, wider, and taller than its previous iteration, and every inch is crafted skillfully. To put it simply, it's the most premium, sophisticated, and performance-focused SUV in Acura history. You can get yours starting in February of 2021. Until then, let's dive deeper into what this futuristic car can offer you.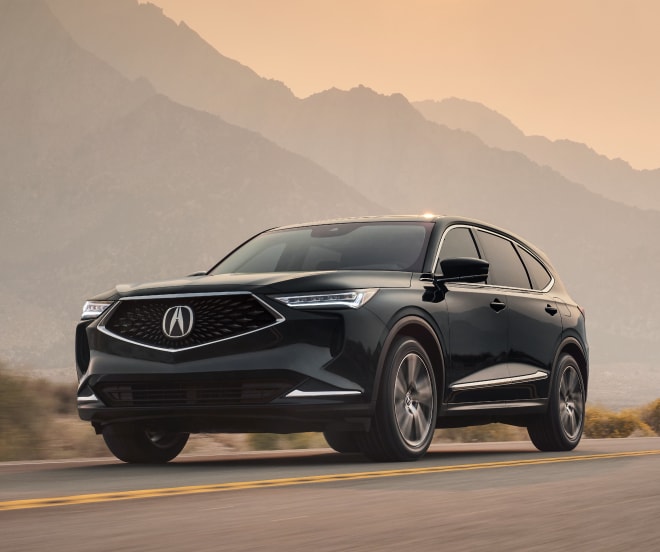 The 2022 Acura MDX Redesign Trim & Specs
The redesigned 2022 Acura MDX is offered in four trims: base, Technology, A-Spec, and Advance. In each trim level, you'll find a competitive starting MSRP, outstanding standard features, chassis optimizations that bring forth sports-car-like handling, and many more new benefits inside and out.
A new Acura MDX S-Type also joins the lineup. This model is a fully-loaded SUV with a high-performance engine and corner-carving handling enhancements. If you're looking for a blend of sports car thrills and SUV practicality, the 2022 Acura MDX Type S will be your ride of choice.
No matter which trim you pick, you will have some of the most advanced technology appointments right at your fingertips. Your 2022 Acura MDX will have a brand-new, reconfigurable 12.3-inch Precision Cockpit™ all-digital instrument display, a panoramic moonroof, Apple CarPlay & Android Auto connectivity, a wireless charging pad, a 12.3-inch ultra-wide HD center display, USB-A & USB-C ports throughout the cabin, an optional 10.5" head-up display, True Touchpad Interface, and Amazon Alexa capability that allows you to run smart home commands & online searches with a simple voice command. Welcome to the future.
2022 Acura MDX Engine & MPG
The New Acura MDX will be powered by an advanced 3.5-liter direct-injected i-VTEC™ V6 engine that gets you 290HP and 267 lb-ft of torque. Acura got rid of the previous 9-speed automatic transmission and now gives you a 10-speed automatic transmission with Sequential SportShift and standard paddle shifters. This gives your drive a wider gear ratio range and smooth transitioning. Front-Wheel Drive will come standard on the base model, but the newest version of the Super Handling All-Wheel Drive™ (SH-AWD) is available as well & comes standard on higher trims.
The 2022 Acura MDX with Front-Wheel Drive will get an estimated 19 city and 26 highway MPG, and versions with the SH-AWD will get up to 19 city and 25 highway MPG.2 The SH-AWD can send 40% more torque to the rear wheels and another 30% to the car's left or right side, depending on traction needs. This vehicle is so smart that you don't even have to push a button for it to do all of that on its own. You'll also enjoy the brand-new ultra-rigid platform that gets a model-first, double-wishbone front suspension. And, you'll have access to the standard Integrated Dynamics System, which allows you to shift between Snow, Comfort, Normal, Sport, Individual modes depending on your driving conditions.
As if all of that wasn't enough to satisfy your need for speed, Acura continues its pursuit of "Precision Crafted Performance" with the 2022 Acura MDX Type S. This variant will be powered by a 3.0L V6 engine that gives you a mind-blowing 355HP and 354 lb-ft of torque - making it the most powerful Acura MDX ever. Vroom, vroom.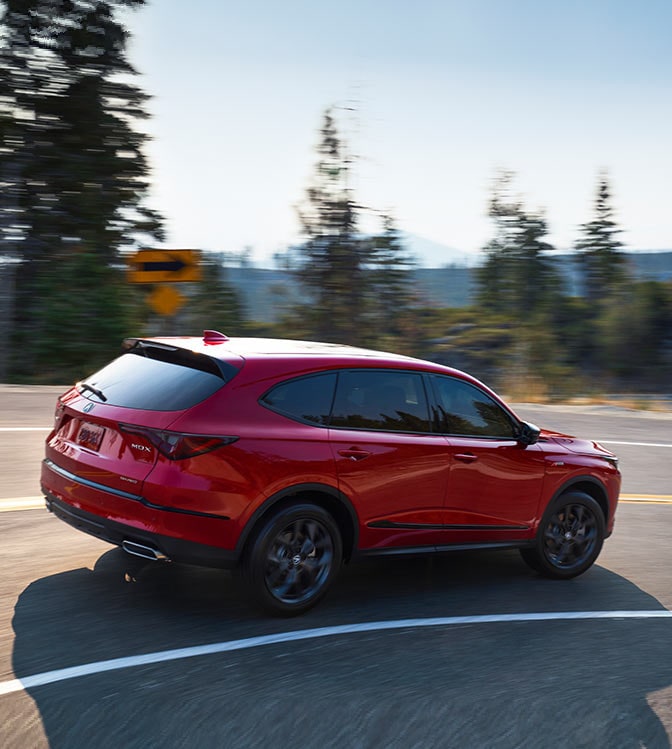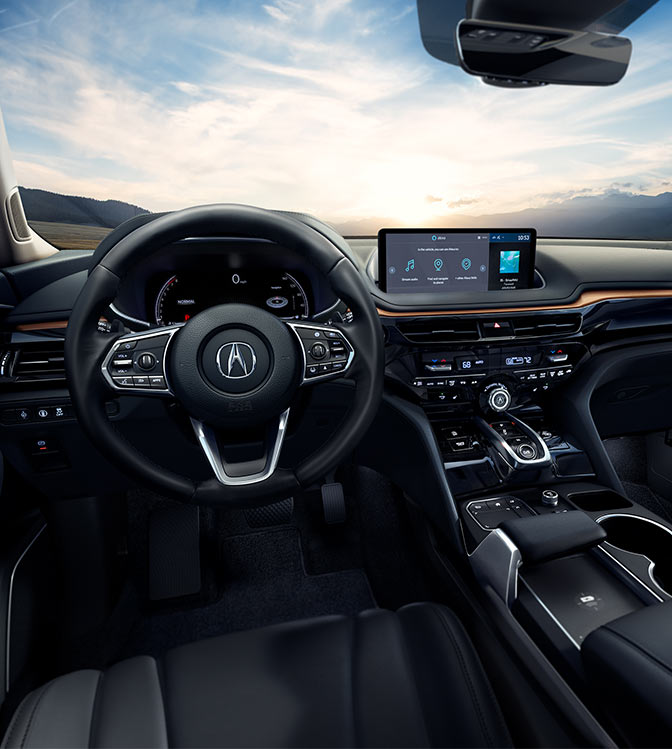 The 2022 Acura MDX Interior & Safety
You'll feel like the Queen or King of the world when you step inside this vehicle. You get to choose between brushed aluminum or open-pore wood trimming for the interior of your 2022 Acura MDX. Leather will surround all three rows of seating giving every passenger a comfortable experience. You also get to decide between one of 27 different LED ambient light schemes. Each one is named after different road tracks or race tracks from around the world, so you can feel like a racecar driver who can conquer the globe with an ambience setting for wherever you want to go.
Every SUV driver wants a car that can carry everything they need, from people to cargo. And this one can. The new Acura MDX has more cargo space than ever before. You'll get 16.3 cubic feet of trunk space, under-floor cargo space, 39.1 cubic feet of space with the third row folded, and 71.4 cubic feet of space with both back rows folded. The possibilities are endless. It's up to you to decide what adventure this dynamic vehicle will take you on.
And whenever you adventure, you'll adventure safely. Every 2022 MDX comes with the AcuraWatch safety suite. Driving aids in the suite include forward collision warning, lane departure warning, blind-spot monitoring, and the all-new Traffic Jam Assist.
Traffic Jam Assist can do many things. It can combine adaptive cruise control with lane-keep assist to help you navigate congested traffic situations. And, it's radar-based, low-speed braking system can sense solid objects at low speeds. If you come across one, the SUV will hit the brakes for you, if you don't do it yourself.
The 2022 Acura MDX Dimensions
As we mentioned, the 2022 Acura MDX cargo space comes in at an expansive 16.3 cubic feet with every row of seating in place and 71.4 cubic feet with the second and third-row seats folded down. If you add the floor space between the first and second rows of seating, that measurement reaches a maximum cargo volume of 95 cubic feet.
Cargo space is just one impressive side of the redesigned 2022 Acura MDX. This premium three-row SUV offers a premium passenger volume of 139.1 cubic feet, giving all seven occupants plenty of room to stretch out on those long road trips.
First row occupants get 38.5-inches of headroom and 41.6-inches of legroom. The 2022 Acura MDX size allows the second-row specs to come in just as strong; 38.1-inches of headroom and 38.5-inches of legroom achieve competitive spaciousness for the segment. Even the third-row seats are competitively roomy, with 36.2-inches of headroom and 29.1-inches of legroom.
The body of the 2022 Acura MDX has been redesigned to achieve these dimensions, and with further competitive measurements like 60.3-inches of second-row shoulder room, your passengers won't have to argue over personal-space intrusions.
As for the Acura MDX exterior measurements, this spacious redesign has been optimized to maintain the city-commuting agility you need. The 2022 Acura MDX dimensions on the outside are 198.4-inches long, 78.4-inches wide, and 67.1-inches tall. With the 2022 Acura MDX ground clearance offering up to 9.4-inches of obstacle-clearing abilities, this SUV is just as proficient for outdoor adventuring.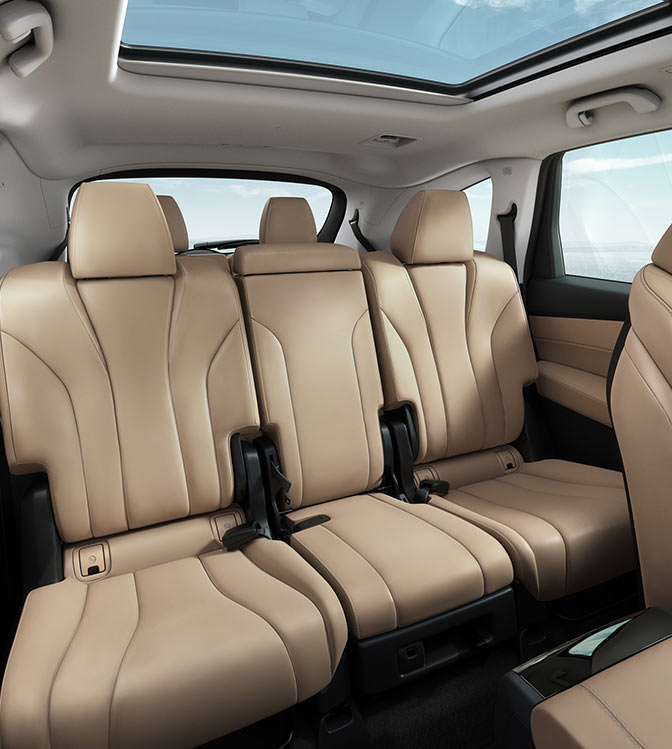 Top FAQs Regarding the 2022 Acura MDX
When was the 2022 Acura MDX released?
The redesigned 2022 Acura MDX made its worldwide debut on December 8th, 2020, and made its way to our dealership in February of 2021. The Acura MDX nameplate skipped the 2021 model year to refine its redesign and bring an all-new SUV experience to life. The cabin is more spacious, and the body is larger and more stylish than ever. Under the surface, new engineering and innovative tech make every moment on the road exciting.
Even more exciting, the high-performance 2022 Acura MDX Type S was released in December of 2021 and is currently on its way to our dealership. Join the waitlist today, and discover this racetrack-bred SUV in all its glory.
How many miles does 2022 Acura MDX last?
The mileage you can expect any vehicle to last varies with the level of maintenance and care given, road and climate conditions, driving habits, and more. The redesigned 2022 Acura MDX is a high-quality vehicle built to last, though. While the 2022 model has not yet received a rating, the Acura MDX SUV's previous model year was ranked second place out of 14 other luxury SUVs in its class by RepairPal.com1. With that model's dependability as a baseline, a new Acura MDX can last for up to 200,000 miles when properly maintained and driven smoothly.
Where is the 2022 Acura MDX made?
Like its previous generations, the new Acura MDX is designed, engineered, and made right here in America. The Acura MDX redesign was led by the Acura Design Studio based in Torrance, CA. Engineers led development in the Raymond, OH development center. Every single 2022 MDX will be built exclusively at the Acura East Liberty, OH, plant. The engine under the hood is manufactured at the engine-specific plant in Anna, OH, and the brand new 10-speed automatic transmission is built at the transmission-specific Tallapoosa, GA plant. So every single individual element of your 2022 MDX is made right here in the USA!
The Future Is Calling & Phil Smith Acura Is Answering
Now that you know all that this incredible vehicle has to offer, all you have to do is contact Phil Smith Acura in Pompano Beach, FL, to get yours. Whether you want to buy or lease an Acura MDX, our team is here to make it happen. Come February of 2021, you can drive off in this ground-breaking, new vehicle. If you have any questions about it before then, please give us a call, and one of our Acura experts will assist you. The future called, and it's telling you to get a 2022 Acura MDX.
1MSRP (Manufacturer's Suggested Retail Price) excluding tax, license, registration, $1,025 destination charge and options. Dealer prices may vary.
2Based on 2022 EPA mileage ratings; Use for comparison purposes only; Your mileage will vary depending on how you drive and maintain your vehicle, driving conditions, and other factors.
3For more details, see: https://repairpal.com/reliability/acura/mdx#:~:text=The%20Acura%20MDX%20Reliability%20Rating,are%20uncommon%20for%20the%20MDX.